2003 Press Release - The Red Seahorse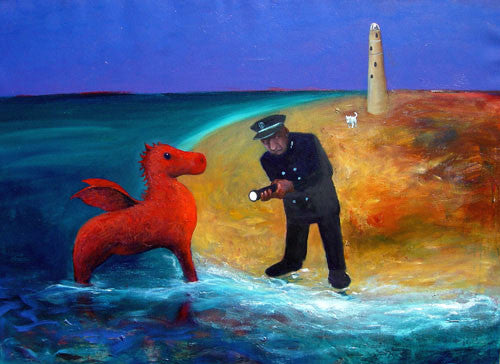 RHYME IS REASON – The Red Sea Horse
A HELEN NORTON EXHIBITION
Michael Commerford Gallery is very pleased to announce the exhibition, SEA HORSE by Helen Norton opening on 16 October 2003 for 4 weeks. 
 Originally from Melbourne, Norton moved to Broome in 1986 and started exhibiting in 1988. A prolific artist, she has had over 60 exhibitions in Australia, and her work is now coveted in the US and the UK, after successful shows in New York and London respectively. Her art features in both private and corporate collections worldwide. Helen Norton now resides in Vanuatu
 Norton's works are wholly distinctive and immediately capture the imagination. Working with oils on Belgian linen, the paintings are vivid, bold and emit great energy. The monochromatic colours that define the Broome landscape have played an influential role in forming the colour palette for Norton. The colours are rich and deeply textured, drawing the viewer into the canvas.  
 While the content of the paintings is complex using imagery as metaphor for the human condition, her subjects often have a whimsical aspect to them. The compositions themselves act as self-contained narratives and there is a purity of vision in the art that could almost be interpreted as naïve. It is this feature that makes Norton's art so appealing and enchanting.
 While she has been compared stylistically with Sidney Nolan, her subject matter is not so literal, but in fact more lyrical. In literary terms, her work may be likened to mystical realism, which is akin to South American writers. There is a sense of accessible fantasy but like the Chilean writers there is questioning in her work as she searches for clues to unlock the human psyche. She uses clowns to represent deception and angels to represent vulnerability and we see them depicted in unexpected environments.
 While her work has universal themes that can reach out to anyone anywhere, the interpretation is truly Australian. We see gum trees and liquid blue skies, deep crystallised ocean beds that can only be found in and around this antipodean land.
 Norton is one of the few artists today with strong technical skills which act as the underpin for an unbridled imagination. She evokes emotion from her viewer and we are compelled by nonsensical composition that make perfect sense. And this is what makes her work so accessible and desirable – the imagery reaches out to us with its pathos and humour. Beautifully depicted, the art speaks to us of our role in nature and its role in nurturing our souls.
 Norton urges people to rely on their "intuitive inner guidance" and in her art, the mythical sea horse is representative of our own individual messenger. As it can only be realised in its abstract form, we cannot define it in real terms, and therefore we are open to find our own truth free of worldly distraction. Through her work, Norton may be described as a concerned optimist and this is evident in her work. However we may regard it, we are left uplifted, happier for the experience. 
SEA HORSE by Helen Norton may be viewed at the Michael Commerford Gallery, 16 McLachlan Avenue, Rushcutters Bay, 9331 3338, from 16 October - 9 November.
- - ENDS - -
FOR MORE INFORMATION, IMAGES OR TO ARRANGE AN INTERVIEW, PLEASE CONTACT MARIE ROWLAND OR VALERIE MANSON AT CLUB COMMUNICATIONS ON (02) 9360 0300 OR 0439 620 204.