Buying Prints is a great idea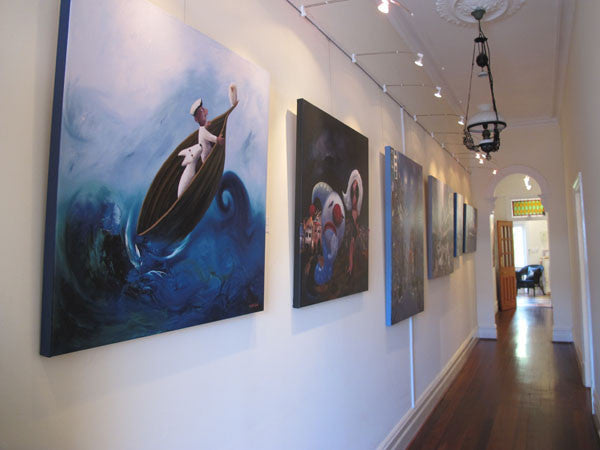 As promised after my attempt to exit from printing artworks as reproductions in the middle of this year when we closed the gallery, we will continue to release some never seen works on a regular basis in small batches.  Original paintings are just too expensive for many collectors and lovers of art, who are practicing sensible caution in increasingly difficult financial times.  Reproductions are a good idea to continue to acquire and enjoy THE IMAGE you love.
I have said before, that as an artist, I refuse to paint similar looking paintings over and over in 'the successful formula', just because they will sell easily. I feel that an artist is no longer an artist when they are just following formula over being creative. Financial imperative drives this, but there is another way, and it involves reproduction. My attempt at integrity in art is to call an object of art for what it is. If an artist has a demand for a particular image, then make a print, call it a print and don't try to paint it again and again and call it an original so you can milk the cow dry. I know...it's my call, my way. Others can do what they will.
My interest is primarily in integrity as an artist, and the creative process, and MAKING SURE - that the stories I make in my images travel and are available as widely as possible. I am not a decorator, I am a storyteller artist. When I set out to paint a new body of work, I intend on creating - yes creating. That means making an image that was not there before. Imagine a novel, only being sold as a one off original, then an author re writing it, and changing a few words and calling it a new novel? No thanks. Imagine a novel, being reproduced so millions can enjoy that unique original work. That's the key! Its about sharing the story, not the glory. Many of my original buyers also buy reproductions. They put them in their holiday houses, in their sheds, in their kid's rooms. Being a buyer of prints is smart.  
You get the image, the meaning, the point of the whole exercise of enjoying, benefiting from and supporting art and the artist in the bread and butter department.
Leave a comment
Comments will be approved before showing up.