Dog Refuge Home Exhibition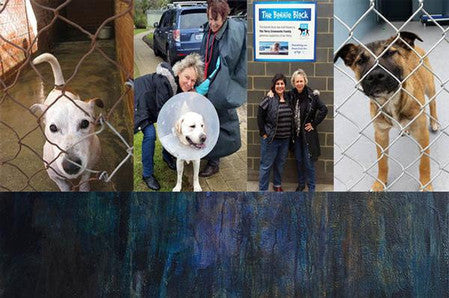 Helen has been working with the Shenton Park Dog Refuge and the incredibly energetic stalwart volunteer Lee-Anne Ashley for many years by donating artworks to the home to raise funds for the doggies needs.
The dogs are often rescued from heartbreaking situations and certain death, including from the dog pounds and the side of the road. Please come and help us raise funds and awareness of the Refuge's great work
Please join us to celebrate the 80th anniversary of the Refuge's noble and compassionate service in re-homing dogs in Perth at a special book launch and POP UP painting exhibition event.
There are TWO EVENTS to consider
1. Buy tickets to the Friday 28th August opening night party with the Art Exhibition Opening and Official Book Launch of the Dog Refuge Book
Event Time - 7.00pm to 10.00pm Entry only $20 to cover drinks, entertainment and nibbles
BUY TICKETS AT: OPENING NIGHT TICKETS
2. The POP UP Exhibition which is FREE to attend and open to the public from:
Friday 28th August to Sunday 30th August 10am - 4pm for 3 days only
Location: Thomas More Exhibition Centre, John XXIII College, John XXIII Ave Main Carpark (Off Mooro Drive) Mt Claremont
• Part proceeds of all sales and 100% of the auction item go to Dogs' Refuge Home.
• There will be an auction of an artwork on the night
• Dog Refuge Book available
• Meet Refuge dogs
• Meet the artist
• Refreshments available
• Entry Free (apart from opening night party)
• A collection of new original paintings painted especially for the Dog Show
• Limited Edition Prints available
• Other original paintings also on display
Leave a comment
Comments will be approved before showing up.